http://baylibre.com/wp-content/uploads/2016/01/CES_Logo.jpg
2000
3200
Mike Turquette
http://baylibre.com/wp/wp-content/uploads/2013/04/logo_baylibre_rvb_200.png
Mike Turquette
2017-01-04 08:00:51
2017-01-21 00:18:21
BayLibre attends CES 2017!
October 11 was the third anniversary of the founding of BayLibre and the team celebrated in style! As usual, this anniversary occurred around the same time as Embedded Linux Conference Europe. Both the US team and the France team travelled to Berlin for the conference, delivering several talks and presentations along the way, and then enjoyed a long weekend in Wrocław, Poland to finish the team celebration.
In addition to our anniversary celebration, BayLibre has created a short video highlighting our expertise, our strengths and the ways in which we deliver value to you, the customer.
ELC-E was a great event in 2016 and BayLibre looks forward to seeing you next year in 2017!
BayLibre is a leading embedded software services provider. We develop device drivers and maintain both platforms & subsystems in the Linux kernel. BayLibre ports and customizes Android and Yocto for a variety of CE devices, including Wearables and IoT.
http://baylibre.com/wp-content/uploads/2016/11/vlcsnap-2016-11-03-10h46m54s074.png
1090
1920
Benoit Cousson
http://baylibre.com/wp/wp-content/uploads/2013/04/logo_baylibre_rvb_200.png
Benoit Cousson
2016-11-03 10:56:12
2016-11-03 12:13:45
BayLibre 3rd Anniversary

BayLibre was proud to be a sponsor of this this years Kernel Recipes conference in Paris.  Kernel Recipes is a small, technical conference focused on various topics related to the Linux Kernel.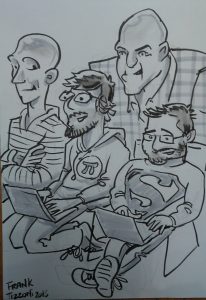 I was a speaker again this year, and  gave a talk about the kernelci.org project.  The talk was a brief overview of the project, its history and ways to contribute.   Slides available here and video recordings will be available soon.
One of the fun parts of Kernel Recipes was all the speakers and some lucky audience members got caricatures of them drawn by artist Frank Tizzoni.  Here is one of me and one of the crowd, with a bunch more available on Kernel Recipes Twitter feed.
http://baylibre.com/wp-content/uploads/2016/09/KR-crowd.jpg
2048
1408
Kevin Hilman
http://baylibre.com/wp/wp-content/uploads/2013/04/logo_baylibre_rvb_200.png
Kevin Hilman
2016-10-03 12:01:49
2016-10-04 17:54:47
Kernel Recipes 2016